About Friends of Callan Park
Our Vision for Callan Park
For over twenty years, the Friends of Callan Park have been advocates for protecting Callan Park against sell-offs and development. Now, in our twenty-first year, we are pushing for action.
Our priorities are:
To educate and inform the community about the historical, social and cultural values of Callan Park through a program of tours, talks, events and the writing and publishing of books and articles.
To ensure the protection and maintenance of open spaces for passive recreation, an increasingly precious and scarce resource in our highly urbanised city.
To advocate for funding for restoration of heritage buildings and artefacts, many of which are crumbling from neglect.
To recognise Callan Park's irreplaceable value as a place of reflection, respite and recovery for people experiencing mental illness and to encourage the adaption and repurposing of suitable buildings for transitional mental health recovery purposes.
To urge government to establish the Callan Park & Broughton Hall Trust, with strong local representation, to ensure proper planning, governance, and a sustainable and vibrant future for Callan Park.
History of the Friends of Callan Park
Friends of Callan Park (FOCP) was formed in 1998 by a group of committed, passionate and dedicated volunteers in order to safeguard the heritage-listed Callan Park & Broughton Hall estate, a much-loved and iconic parkland site of 61 harbour-front hectares in Rozelle.
FOCP's primary objective is to ensure that Callan Park is protected for public use into the future and that it has a governance structure that will prioritise proper planning, maintenance and sustainability. This can only be achieved if the community's needs and wishes are heard and responded to.
For twenty years, members of FOCP have worked with the wider community to ensure the unique values inherent in this heritage landscape are understood and appreciated.
Over the past two decades, FOCP have successfully led the community in a campaign to protect Callan Park from sell-off and commercialisation attempts by successive governments.
Callan Park is an irreplaceable space of cultural, archaeological, historical and architectural significance.
FOCP pledges to continue its work to protect and champion the site, ensuring Callan Park's future is secure and sustainable for new generations to enjoy.
Like Sydney's Royal Botanic Gardens and Centennial Park, Callan Park is a uniquely valuable site and cultural resource that is intensively used and greatly treasured by the local and wider community.
Our Publications

Callan Park: Compassion and Conflict in The Asylum

Broughton Hall – Brought to Life

Callan Park: Hospital for the Insane by Sarah Luke

Using images – some never seen publicly before – and oral history interviews (including the Rozelle Hospital Oral History Collection) historian Roslyn Burge has created a fascinating insight into the former mental asylum.

Launched at our AGM, our newest publication – Broughton Hall – Brought to Life describes in text and beautiful colour photos the history of Broughton Hall.

Tales of Victorian-era madness have imbued minds with images of inconvenient husbands and wives, locked up without hope of real care or release. But what was the reality faced by the 'insane' in nineteenth-century New South Wales?
The Friends of Callan Park meet generally on the second Monday of each month at 6:30pm at Writing NSW. See dates below. All welcome.
We are not able to offer ZOOM due to technical difficulties.
2023 Schedule
13 February
13 March
17 April (10 = Easter Sunday)
8 May
19 June (12 = Queen's Birthday so Public Holiday)
10 July
14 August
11 September
9 October
13 November
4 December (1st Monday) (AGM and Christmas Party)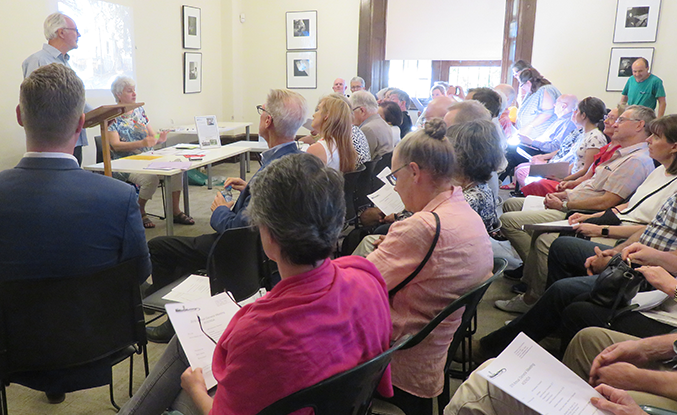 Support us
Donations (not tax deductible) to support our activities can be made by:
Cheque payable to: Friends of Callan Park
PO Box 238 Rozelle 2039 or
EFT BSB 633 000
Act. # 142343243
Reference: your surname and "donation"
Send an email to focp.admin@gmail.com letting us know you made a donation. Thank you!
Our Affiliations
Friends of Callan Park are members of the following organisations: