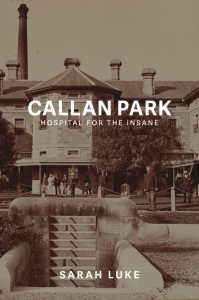 Tales of Victorian-era madness have imbued twenty-first century minds with images of inconvenient husbands and wives, locked up in attics or diseased madhouses in the English countryside, without hope of real care or release. But what was the reality faced by the 'insane' in nineteenth-century New South Wales?
In 1874 Sir Henry Parkes purchased the pleasure grounds that were Callan Park and turned them into the jewel in the crown of New South Wales' mental healthcare. Despite local protests, Garryowen House became the site's first hospital – equipped with a cricket pitch, farm, orchard and zoo. Soon the asylum proper was built and became home to over 700 patients.
Callan Park, Hospital for the Insane uses Victorian-era medical files to explore the lives of the first patients and staff of the early hospital, detailing their daily routine, treatment, escapes and cures.
Available from your local book store.
To contact the author: email sarah-luke.com