This the final submission to the Draft Landscape Structure Plan by Friends of Callan Park.
Friends of Callan Park are in general support of the Draft
Landscape Structure Plan.
The Plan and the commitment of an initial $10 million to begin implementation of the plan is a long- awaited acknowledgement of the environmental, cultural, natural, social and heritage values of this wonderful harbourside site. The neglect (and worse) of Callan Park by successive governments has continued for far too long. The Friends welcome this historic turning point.
As the Minister for Planning and Public Spaces acknowledged in his announcement on 17 July 2020:
'This investment in Callan Park is just the start and demonstrates our commitment to revitalising and growing our city's great public open spaces, starting with one of its great forgotten jewels' – Callan Park.
The Minister's assurance – reflected in the Draft Landscape Structure Plan – that the future of Callan Park will continue to be protected by the Callan Park (Special Provisions) Act 2002 is very welcome.
What follows are suggested amendments which we believe will strengthen the aims and priorities of the Plan.
OPENING THE FORESHORES – AND STRENGTHENING THIS NUMBER 1 PRIORITY
The Friends endorse the priority given in the Draft Landscape Structure Plan (DLSP) to opening up the foreshore areas.
We suggest that the Project Staging Priority Projects set out on page 69 of the DLSP should be reordered – but note that our leading priorities are the same as those in the DLSP:
1. Closing Waterfront Drive to vehicle traffic [DLSP Priority #1]
Removal of roadway between Wharf Road and Military Drive (p25). It would be preferable to keep the whole of the Waterfront Oval area free of vehicles. FOCP recommends the road directly in front of B497 should be drop off only – no parking.
A very small parking area could be formed discretely between B496 & B497/Repatriation B Ward to allow only emergency access and limited temporary disabled access. (p40). This small parking area for emergency and disabled access only is well set back from Waterfront Oval while providing a viewline to the Oval and easy entry to B497/Repatriation B Ward.
Upgrades to the Bay Run – with separate walking paths and cycling paths. [DLSP Priority #1] Two separate, distinct paths to ensure safety and enjoyment by both pedestrians and cyclists.
Removal of waterfront buildings – Hastings House/B505 and Palm Court/B514 to open up water vistas [DLSP Priority #2] Pavilion (B499) should not be demolished until B497 / Repatriation Ward B complete with similar facilities to the Pavilion is accessible to the community.
Creation of Waterfront Green at the end of Wharf Road for passive recreation and picnicking [DLSP Priority #2]
Conversion of Repatriation Ward B/B497 to community group and sports group building. Currently this is the only veterans' ward recommended in the DLSP for retention. Fronting the waters of Iron Cove, this building is ideal for the whole community (there is no building in Callan Park available for shared general community use). Inner West Council already has full use of two buildings for sports use (B504 + Refugee Welcome Centre and B703). B497 should not have exclusive priority as a sports clubhouse (DLSP p38). [DLSP Priority #8]Cane Room (B512) Refurbish for general community use and/or a social enterprise café with uninterrupted views over the Bay Run to Iron Cove. Curtilage to be retained as green open passive space.
Wharf Road carpark – Transfer of parking from the foreshore to the proposed new parking area (and location of an amenity block) [DLSP Priority #3] B503 could be used as an amenity block which would be cost effective as plumbing is already installed. There is no mention of any other public amenity near waterfront other than B499. The only other amenity block (B696) is 15-minute walk away, difficult for the elderly or very young and should not be demolished. It is imperative that the two carparking areas (Wharf Road and west of Kirkbride) are shared by the public and Kirkbride tenants.
FOCP agree that after these initial Priority Projects the next stage should include establishment of pedestrian path networks and remediation of roads for safe vehicle and cycle use. Following is our recommended re-ordering of the DLSP priority list.
Callan Point – Removal of 1960s buildings on Callan Point – retaining the Garry Owen Summer House (B494). We welcome progress with the lodgement of a DA for the Garry Owen Summer House. Consideration should be given to reducing footprint of Flanders House (B495) by removal of additions and leaving original building with kitchen and amenities. Retain inter- war Garden Pavilion (B486) which affords seating and is designed as a rest and wellbeing garden feature.
Although Flanders House is not part of the Priority Projects, its potential adaptive reuse as a First Nations cultural centre could be examined. Aboriginal middens and the rock carvings should be preserved and protected.
Children's playground adjacent to Waterfront Oval near B496 / Repatriation Ward G – support this activity.
REMAINING PRIORITY PROJECTS (USING NUMBERING PER PAGE 69)
4. B207 / Industrial Therapy Unit / Canteen has attractive windows to the floor and from its elevated location affords views across Waterfront Green to Iron Cove and the Blue Mountains. Consideration could be allowed in short term for temporary adaptive reuse as a tea room/coffee shop, NGO or social enterprise. Constructed in 1958 it is in sound condition and at 531.6 m2 is nearly twice the size of the Gardener's Cottage (291.6m2).
B208 / Ward 16 / Psychogeriatric Ward agree adaptive reuse of this building.
B205 / Gardener's Cottage – Return original name, designated by James Barnet on his drawings of Callan Park, to Gardener's Cottage. This name reflects the importance of this role in the asylum. Area should be named Gardener's Cottage Gardens (not Bonnyview).
B201 / Linen Services and surrounding roads in Central Slopes – agree building should be removed. Retain Steel Weighbridge (B203). B204, small garage south west of B201, should be removed. Extensive bitumen surrounding this building should also be removed.
B209 & B210 (Wards 17 & 18) potential for adaptive reuse of these sturdy buildings should be examined. Since the hospital closed in April 2008 there has been no consideration about how any building beyond Kirkbride could be adaptively reused – yet these buildings reflect changing modes of psychiatric care, technology and government policies. Whilst these buildings have been allowed to degrade they are substantial and reflect those influences – they are testament to changes in psychiatric care and their demolition would mean the record of care in the second half of the twentieth century at Callan Park would be missing.Generously proportioned and constructed in 1959, these sturdily buildings have required minimal care or maintenance in 60 years. (The copper roofing over the curved section was stolen in 2008 after SHFA took over management of the site and reroofing maintenance has been ignored.)Identified identically in CMP 2002 and 2011 as "intrusively sited in former open space which was part of Kirkbride and Garry Owen setting", this could be said of almost every building at Callan Park. Sitting below the north-west viewlines of Kirkbride and Garry Owen, neither building intrudes on the original asylum buildings.Their description as intrusive remains unchanged since 1991 and has been replicated uncritically in both CMPs and, despite Howard Tanner's recommendation that "all buildings now 25 to 30 years old need to be considered for heritage listing", this assessment made nearly three decades ago is the basis for the recommendation for demolition today.1All requests (even within Health) to utilise buildings at Callan Park for health, community, education or NGO purposes have been denied. These buildings with large spacious interiors and extraordinary views across Callan Park to Iron Cove and the Blue Mountains warrant reassessment of their significance and for adaptive reuse.Professional heritage advice suggests the terracotta tiled roof is unique because the tiles are laid in a radius and blend into the hipped roof. Not only is this technique a good example of craftsmanship from a bygone era, this design and complexity augments its significance.
New (pedestrian only) path network through Central Green slopes – buried in the information review is a topographical map but nowhere in the DLSP is there a discussion of the topography of Callan Park and the way it moves from the ridgeline at Balmain Road through swales and undulations to Iron Cove. Inadequate as pathways and roadways may be – they generally meander through the site. In the same spirit, at adjoining Broughton Hall where paths meet rounded edges of lawn. Abrupt, straight or angular pathways are not appropriate for Callan Park – either from Wharf Road to Iron Cove or from Balmain Road into the site.
8. FOCP would encourage reassessment of the design principles for all new pathways which should be organic and sinuous, and made of crushed sandstone or gravel (not concrete). Pathways should be designed to ensure they can be navigated equally by everyone.2
This central portion of the site should be pedestrian only to maintain the tranquil, unhurried ambience of this area.
B497 / Repatriation Ward B – as discussed above.
B511 Small building removal – this building was significant at a social and recreation club for veterans and demonstrates recreational care provided. Unfortunately its maintenance has been ignored and it now needs to be demolished.
External path – as discussed above #7.
Balmain Road pedestrian and cycle path – The historic Balmain Road Boundary Wall of the asylum should not be removed. There is no rationale for expenditure on a cycle-way and pedestrian path inside Balmain Road boundary of Callan Park. There is already a footpath on Balmain Road.
Connect path network from Central Green Slope to Balmain Road-there is an unformed, rough roadway at right angles to the boundary wall on Balmain Road into the site behind the cottages west of the Balmain Road field. This roadway could be utilised and reformed into a mulch or crushed sandstone pathway to the original Garry Owen House/Writing NSW/B213. All other pathways through the site are too angular and comments in #7 apply.
THE CHARACTER OF LANDSCAPING: PLEASE, NO OVER-ENGINEERING
All future landscaping should be natural (using native plantings) and 'light touch': not only in order to extend the budget but to maintain the traditional heritage landscape character of Callan Park, attract more native fauna and respond to increasing demands for sustainability as climates change.
SHARING DIVERSE SPACES
FOCP supports Sharing Diverse Spaces of Callan Park (p19). The pandemic has demonstrated the huge community need for quiet spaces and green spaces for mental health: Callan Park has afforded the community generous quiet green spaces for passive recreation. The DLSP raises the question of dog walking, and during our consultation within Callan Park many members of the community cite the importance of Callan Park as a space for their recreation and a place for dog walking.
HERITAGE RESTORATION: NEEDED MORE THAN EVER
We welcome work to be done on the Garry Owen Summer House (B494), Gardener's Cottage (B205) and the Main Gates (at Cecily Street).
Friends draw attention to the need for urgent restoration work on the Convalescent Cottages (B401 – 404), the Garry Owen estate stable and cart shed (B701 and 702) , and although it is not nominated in the area covered by the DLSP, Broughton Hall.
We endorse the DLSP's three underlying priorities, noting: (p19)
3. PRESERVING OUR HISTORY AND HERITAGE
Maintain and conserve the significant landscape, social and cultural heritage of the site, from the shell middens and rock shelters used by the First Nations People,to the historic sandstone buildings and therapeutic landscape gardens of the former hospital.
This will require continued extra funding of the order of the funding announced for the DLSP. The longer this funding is delayed the greater the deterioration of these irreplaceable heritage assets.
One of the urgent objectives of the Greater Sydney Parklands agency should be to discontinue the process of 'demolition by neglect' that has occurred over past decades.
MENTAL HEALTH SERVICES: STILL A PRIORITY
The increase in mental illness across the community reinforces the need for green and open places where people can find respite; this has been amplified by the pandemic.
FOCP notes no diminution in the community's interest in, and preference for, existing buildings to be repurposed for (step-up and step-down) non-acute mental health services at Callan Park, contrary to the statement contained in the DLSP (p16), that it is 'no longer a top priority' for the community.
This comment is hard to reconcile with the overwhelming strength of views expressed to the consultants at the Friends of Callan Park meeting a fortnight after the first consultation in March 2018. The community has not changed its views: the subject of mental health services was never raised by the DLSP team in any public consultation.
FOCP understands no report was prepared by the consultants following public consultation sessions. We understand "the purpose of the consultation was to inform the direction and priorities of the DLSP. Outcomes from the consultations are expressed in the strategies and vision, and in the consultation pages in the document. In terms of the engagement at the waterfront, the consultants presented a series of boards which invited an open discussion about the site and its future. As a result of the various consultations, the consultants concluded that the vast majority of respondents were focussed on opening up the site for use as a parkland, removing conflicts between roads and park users, and removing or fixing dangerous building sites, and they identified a lesser focus on mental health than in the past."
At the community meeting called by local Member of Parliament, Jamie Parker, on 18 June 2018 (when DPIE staff addressed the DLSP) the need to integrate community mental health in the future evolution of Callan Park was recognised unanimously by the community and is not in conflict with the policy of NSW Health for the exclusion of acute care facilities at Callan Park.
Callan Park has a long history of provision of treatment, respite and therapy for people experiencing mental ill-health and members of the community and FOCP continue to support the use of adapted/repurposed for this use, with a particular note of the need (expressed in many formal and informal enquiry processes) for community step-up/step- down facilities. Callan Park is ideally located for this purpose, being in close proximity to both Concord and Royal Prince Alfred Hospitals.
FOCP recommends that priority be given to locating non-acute mental health services in buildings identified for retention (and in a few instances, demolition). Though listed as part of the Kirkbride EOI, the Convalescent Cottages (B401-404) could be used for this purpose. Alternatively the suite of buildings along the secondary ridgeline (B208, B209, B210) could be used for step-up / step-down services which support wellbeing (not medical services).
We believe there is potential for social enterprises (café or nursery) to be run by mental health CMOs at Callan Park to provide workplace training and experience to aid recovery, whilst their status as CMOs does not breach the Callan Park (Special Provisions) Act 2002.
CALLAN PARK TRUST: THE CONTINUING NEED FOR COMMUNITY INVOLVEMENT AND COOPERATION
Friends continue to support the creation of a Callan Park and Broughton Hall Trust (with accountable community representatives on its board) to manage Callan Park. Such a Trust would acknowledge the role that the local community has played – and continues to play – in the preservation of this unique site.
In the absence of a Trust – and in the interim – a representative, open and accountable Community Consultative Committee specifically for Callan Park should be created, with direct access to the Greater Sydney Parklands board.
Such public involvement and input to the management of Callan Park will maintain the new era of cooperation and consensus that is emerging around the future of this wonderful and distinctive site.
CALLAN PARK BUSHCARE ASSOCIATION: PARTNERS IN THE UPGRADE AND PROTECTION OF CALLAN POINT
The restoration, conservation and protection of Callan Point is a positive feature of the DLSP. It has long been accepted that the return of the headlands in Sydney Harbour as open space accessible to the public is a priority. The DLSP acknowledges the significance of this place for its connections to Wangal and Gadigal people and notes the endurance of remnant vegetation on Callan Point.
Through the work of the Callan Point Bushcare Association, the community has shared this appreciation of Callan Point and their work has helped protect and restore it. Coordinated access to the eastern slopes and Callan Point by the volunteer Callan Park Bushcare should be maintained in order to continue their work – guided by the DLSP and the Callan Point Conservation Management Plan (1998?).
POSSIBLE VARIANCES FROM DEMOLITION RECOMMENDATIONS
IN DLSP
Some of the longer-term demolitions recommended in the DLSP may need to be re- examined with a view to some of the buildings being retained. See attached map.
Council has licence to use the Electrician's Cottage (B703) for sporting groups using the Balmain Road Oval. Demolishing this building may be impractical.
We are also aware that there is a case for keeping some of the smaller buildings which are in reasonably close proximity to Balmain Road (B714-719). In addition, B299 located near Wharf Road could provide a reasonable amount of space which could be used by an NGO.
PROPOSED POOL ON WATERFRONT
FOCP does not support a harbour pool on Callan Point (p31/point 9). The Leichhardt Park Aquatic Centre is a 10-minute walk (approximately 800 metres) from the proposed location of the harbour pool and the Dawn Fraser Pool in Balmain will soon reopen. Locating a pool on Callan Point will increase use of Callan Point which is already a fragile landscape.
CONCLUSION
There are significant omissions in the DLSP consultation process:
Extraordinarily it would appear that no First Nations people have been consulted.
The DLSP is silent about the potential adaptive reuse of any building, but reiterates that the potential to adaptively reuse buildings … will be undertaken as a next step (pp 5 & 23). Despite this it does identify two buildings for potential reuse – sporting uses only: B499 as a sport clubhouse (p38) and B712 as a sports pavilion (p56).
Although this is a plan for the landscape, there is no reference to the Open Space Management Plan undertaken by Clouston in about 1993.
A significant omission to guide and assist community discussion of the DLSP and the adaptive reuse of the site with holistic vision for all of Callan Park (pp3 & 65) is reference to the Burra Charter which is internationally recognised as a guide to the management of heritage sites.
DLSP describes the creation of a holistic vision for all of Callan Park (p68) yet at the same time confusingly declares its recommendations do not affect areas with other tenants or Health uses (p6). How will Callan Park be managed holistically?
The Conservation Management Plan 2011 is cited as an effective management structure (p6) and lists 116 policies to guide the proper care and management of the buildings and landscape at Callan Park and Broughton Hall. To date the guidelines and policies of the CMP (and the Burra Charter) have been largely ignored by Health and most tenants. It would be reassuring if these policies were properly monitored as part of the implementation of the future DLSP.
The CMP 2011 updated a number of Conservation policies: FOCP calls for the CMP and its policies for conservation and proper management of this exceptionally significant heritage site to be implemented immediately, particularly 6.3.12 – Management of the Site; and 6.3.7 – Recording of Changes.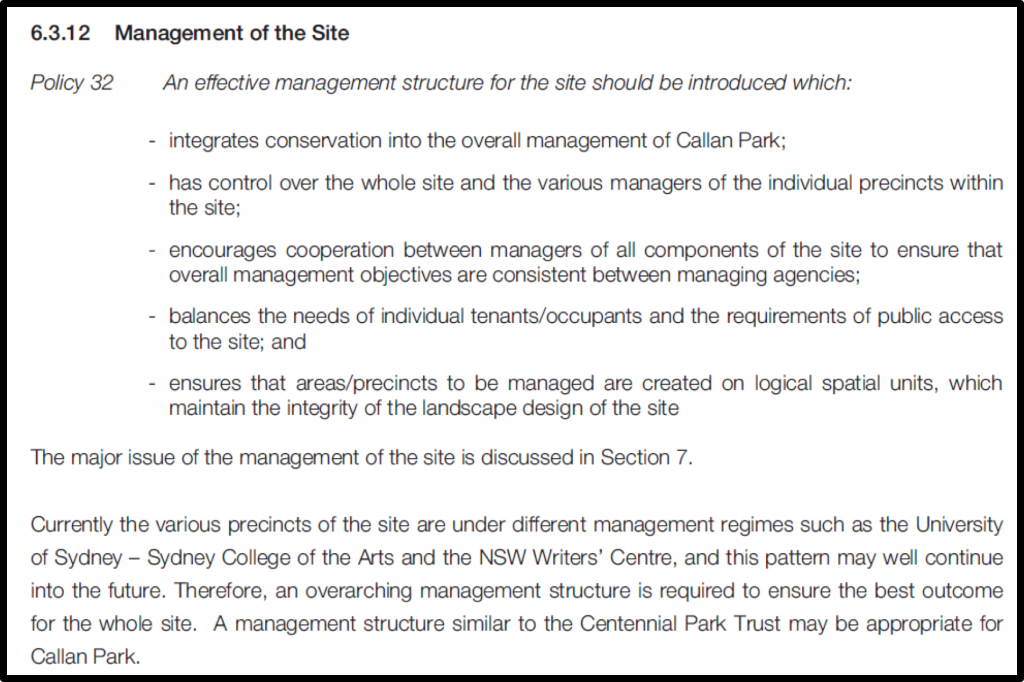 Callan Park, Rozelle, Conservation Management Plan, Tanner Architects, September 2011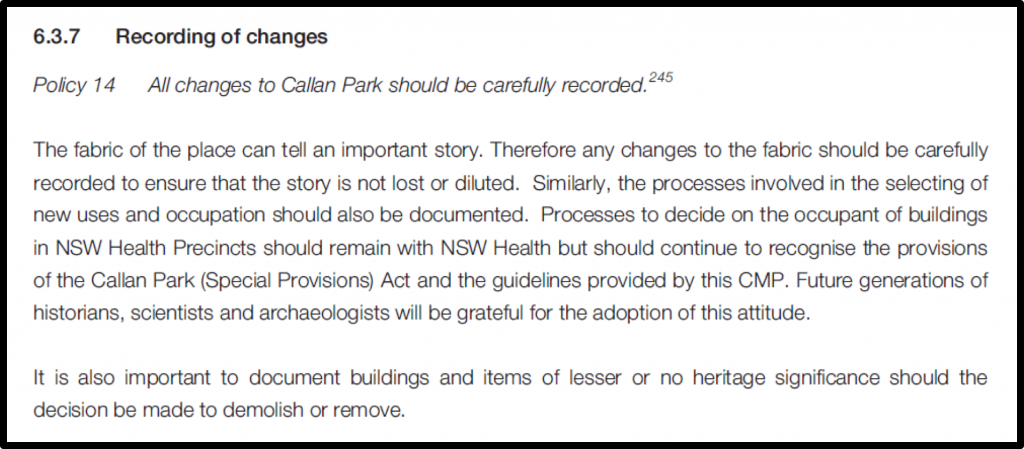 245: Burra Charter, Article 27 – Policy 27.2, 32, 33
Friends of Callan Park recognises the value of the Draft Landscape Structure Plan in exploring ways in which this exceptionally significant heritage site that is Callan Park and Broughton Hall might evolve into an urban parkland.
Thank you for considering this submission to the Draft Landscape Structure Plan.
Be assured of the Friends of Callan Park's continued interest and involvement … along with the local community … in the future of Callan Park and Broughton Hall
Hall Greenland
President, on behalf of the executive of
Friends of Callan Park