Both the war memorials in Callan Park – the Sydney Harbour Bridge (located on the southern end of the main oval) and the Spanish-styled architecture (a curved structure closer to the Cecily Street main gates) – are increasingly at risk of destruction.
The kangaroo head which was the central decoration of the "Spanish" memorial has long gone.
The Sydney Habour Bridge continues to suffer from the impact of children who appear to regard the structure as a jungle-gym – as do their parents. Because there is no interpretive signage to remind the community of the significance of the structure it continues to be at risk – even though it is plain to any adult that this fragile structure is not designed for children to clamber over.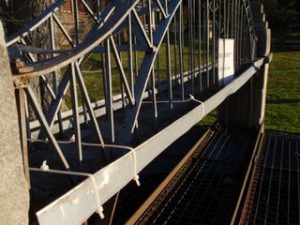 A regular walker in the park was not sure who they could report the condition of the Bridge to and had made a sign and placed it in the Bridge struts. SHFA's Security have been very helpful when called but unfortunately due their limited funding and number are unabe to continually cover all the park.
The area was cordoned off for a Saturday sporting event but was not permanently left in place.
The above pictures show the horizontal strip of metal on the north side of the "road" was torn off a week ago.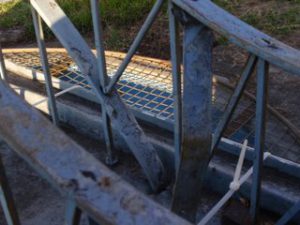 Since these picutues were taken the other half is now hanging loose. Concerned residents have linked cable ties to at least keep the metal in place, but unfortunately anyone with scissors or a sharp knife will soon remove those. Those people who walk through Callan Park are asked to please keep an eye on this important structure.
24 HOUR CALLAN PARK SECURITY NUMBER – 0402 696 321